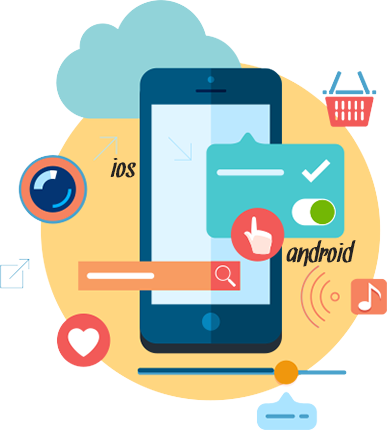 Mobile Apps development, a Pear System that enrich business or enterprises to explore mobile commerce. With an ease of anytime, anywhere use, mobile apps market will reach $77 Billion by 2017. Mobile App encapsulates accelerative components (native apps), technology solution and rich user interface to meet future technology.
Mobile apps can provide a competitive advantage, boost business activities, enormous potential to sales, automates marketing and make business-critical decisions on the go. We develop feature rich mobile apps to increase productivity, optimize performance and ease social engagements.
Pear System, a mobile apps development company can help you capitalize to create new mobile apps and to adapt existing web applications on cross platforms such as iPhone (iOS Apps), Android (Google Play Store), Windows (Windows 10 Apps) and HTML 5 Apps. Our Mobile Apps Developers focuses on usability and functionality to innovate workflow ideas, social media and internet of things to delight customers, enterprises and stakeholders.
We adopt mobile application framework to ensure scalability, productivity and customer manageable capabilities. Our team will ensure that your mobile application development requirement is carried out to the full specification, within the required timeframe and budget.
Our App services include:
IPhone (iOS) Apps Development::
We develop mobile apps for iPhones using iOS Native codes
iPhone Apps Development
iOS Apps Development
iPad Apps Development
Apple Apps Development
Cross Platform App Development
Cross platform mobile development is in vogue as growing business.
Better version control
Low app development cost
Usability of open source cross platform tools
Easy access to the plug-in and modules for web services
Android Apps Development::
Android platform is a framework developed by Google and the Open Source.
Android Apps Development
Google Play Apps Development
App advice:
We can help you select the best platform to suit your business needs.
Why choose us?
While designing your website, we aim to identify and promote your unique business brand, or strengthen what you already have.
Our web design and development services are geared towards increasing your sales and profits, raising your company's profile, and giving you a tangible edge over your competitors.
We can turn your website into a powerful asset to achieve your business objectives.
All our websites are W3C compliant and optimised for higher search engine rankings.
We deliver a complete web package, from design to end product. We specialise in search engine optmized copy, online marketing applications and social media integration, developing custom applications, hosting and maintenance services.
From conceptualisation, implementation, to maintenance – we are with you at every step of the way. Leave all your web development, maintenance and web hosting services to us and focus on what you do best – running and building your business.
We will be happy to discuss your website design and development requirements and provide you with a no-obligation quote.
Contact us, to know more about our web development services.